Choosing Paint Colors and Options
We use paints by Sherwin Williams and normally work through the branch in San Marcos but you can go to any local Sherwin Williams store to look at colors.
Sherwin Willims of San Marcos
305 N. Edward Gary Street, San Marcos TX
See the Sherwin Williams Website

You may also like to try the Sherwin Williams Color Visualizer Tool.
(Note: We strongly recommend you choose colors from phyiscal samples. Colors displayed over the internet may not be accurate).
You need to pick interior walls, interior trim, interior ceilings.
Then exterior paint color, trim color & garage door.
Also, any wood elements such as shudders or deck stain color (if applicable)?
You can stop by any Sherwin Williams & get free swatches if you want.  Or you can order larger samples online from their website.  And they can match other colors if you find something you like better from another paint company.
Choosing Tile Options
We work with two main tile companies: Marazzi and Emser. You will need to choose your floor tile(s), kitchen backsplash tile and pattern and all bathroom tiles and patterns. You will also need to pick grout colors to go with those tile selections. Here is all contact info for both venders.
Marazzi Tile & Stone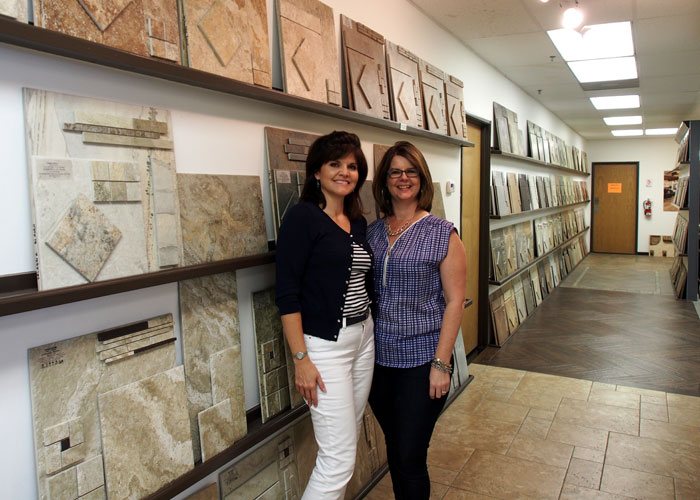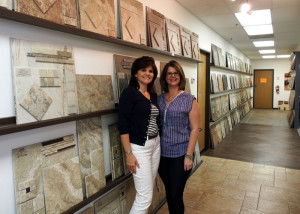 1050 Arion Parkway, Ste. 100
San Antonio, TX 78216
Phone: 210-545-9101
Contact: Wendy Irons or Heather Nunez
Wendy's email: wirons@marazzitile.com
Heather's email: heather.nunez@marazzitile.com
Visit Marassi Tile and Stone Website
Emser Tile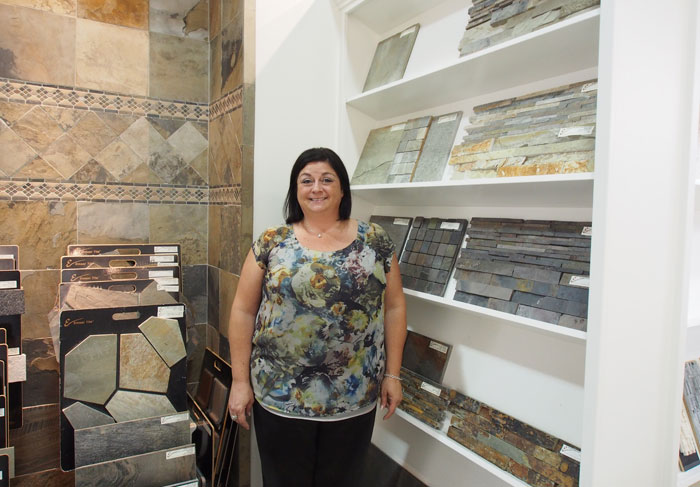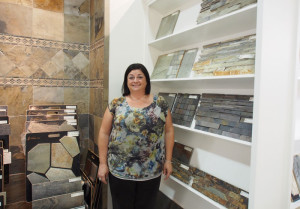 1111 Arion Pkwy #102
San Antonio
Phone: 210-402-3013
Contact: Michelle Trigo
Email: michelletrigo@emser.com
You can call ahead and make an appointment to meet with Wendy or Heather (Marazzi) or Michelle (Emser) – our account reps/designers.  Just tell them you are building a house with Workman Development. They are familiar with our budget parameters and options and can help you in choosing all of your tile options.
Marazzi Tile is all made in the USA. They offer porcelain inside and outside tiles, ceramic, natural stone and tons of beautiful decorative tiles, liners, glass, etc. They also have a wide selection of grout colors. Emser does as well.
They can give you samples of your tile choices so that you can use these to pick out your paint colors, cabinets, etc. and have the tile right to hand when you do.
Choosing Your Carpet and Flooring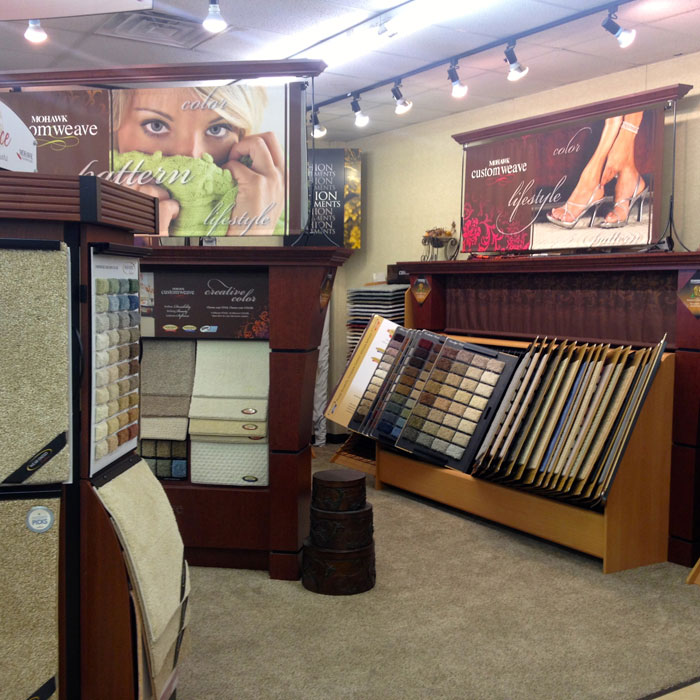 Hoffmann Floors
710 TX 337 Loop
New Braunfels 78130
Contact: Dennis, Nancy or Melissa
830-625-2629
Email: Hoffmann@hoffmannfloorsnb.com
Visit the Website of Hoffman Floors
Call to let them know when you're coming so one of them will be available to meet with you.
Choosing Wood Flooring
Hardwood Bargains
1340 Airport Commerce Dr. #425
Austin, TX 78741
512-920-5782
Email: info@hardwoodbargains.com
Visit the Hardwood Bargains Website
Choosing Your Granite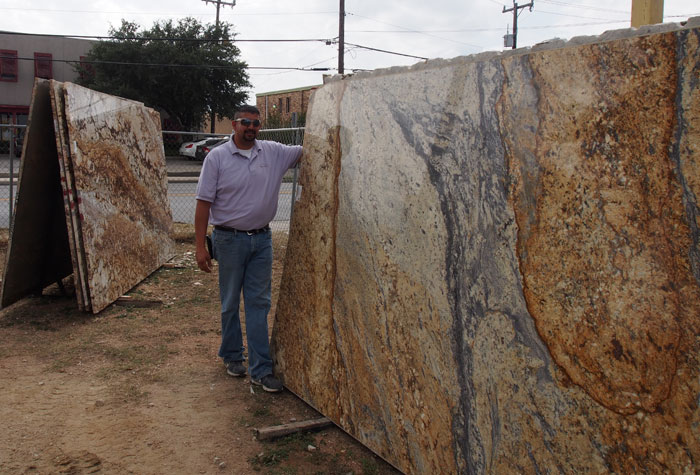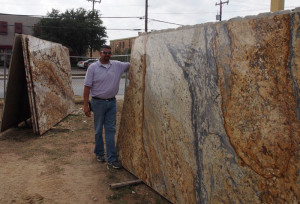 MJ Granite and Marble Supply
323 E. Nakoma
San Antonio, 78216
210-404-0377
Visit the MJ Granite and Marble Supply Website:
This website has good photos of all current granite selections. You may want to review these on line before you actually go there.
MJ Granite is the granite yard – they have a fantastic selection!  Here you will choose the kitchen and bathroom countertops.
Michael Arguijo, the owner of MJ Granite is also usually available to help show you selections. If he is not, Tony or Liz can always help you.
Our granite installer can meet you at MJ Granite to show you the many beautiful granite options. Her name is Nina Sandoval and she works at MS Granite and Marble. Her Email is nsandoval392@hotmail.com and phone is (210) 648-9980.
She will estimate how much granite you will need for each area and know how many slabs will be used. She handles the cutting and installation of the granite into your new home.
You may choose level 1 or 2 for the kitchen.  We always put granite remnants in the bathrooms. These are our standard levels.
You may of course upgrade any of the granite to higher levels with an upcharge ($10 per sf to increase kitchen granite to level 3). ($25 per sf to increase bathroom granite to level 1 and an additional $10 per sf for each higher level above that)
You will also need to choose what style you want the granite edges cut (different options such as beveled, rounded, etc.)
And you will need to choose the type of sinks you would like for the kitchen and bathrooms. For the kitchen, undermount sink is included, but not the bathrooms.  You will need to choose which sink configuration you would like for the kitchen sink. Nina can help you with this and show you options.
Undermount sinks in the bathrooms are an upgrade with an upcharge.  The actual porcelain sink cost is the same (undermount vs drop-in), but they charge additional for bathroom undermount sinks to fabricate the granite for the additional labor to cut/polish the edges.
Choosing Your Plumbing Fixtures
Here are the links to the Moen fixtures that we install in your home as our standard.  Check them out and let us know if you like these selections or if you want to make any changes.
The color will be Oil Rubbed Bronze ("ORB") everywhere except the kitchen.  We typically install a Stainless Steel kitchen faucet so it matches the stainless steel sink.
If you compare the list price of the included items, you can get an estimate of what any changes/upgrades may cost.
Click any image to visit the website.
Kitchen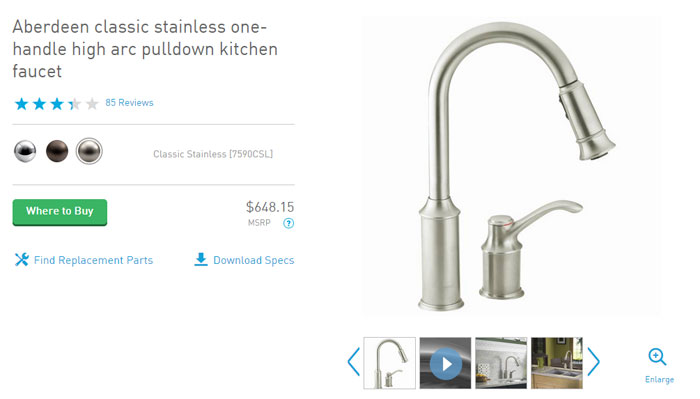 Bathroom/ Lavatories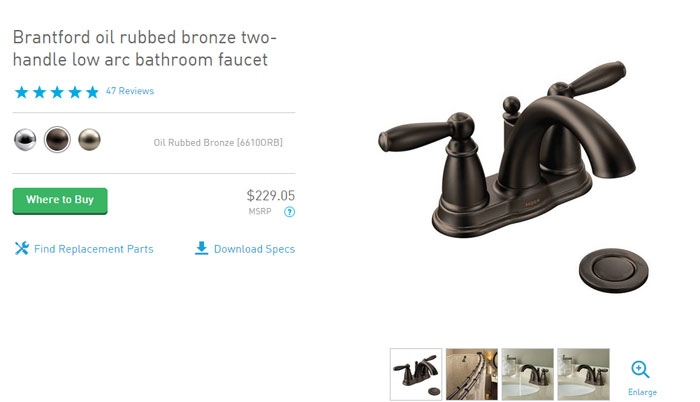 Tub/shower combo: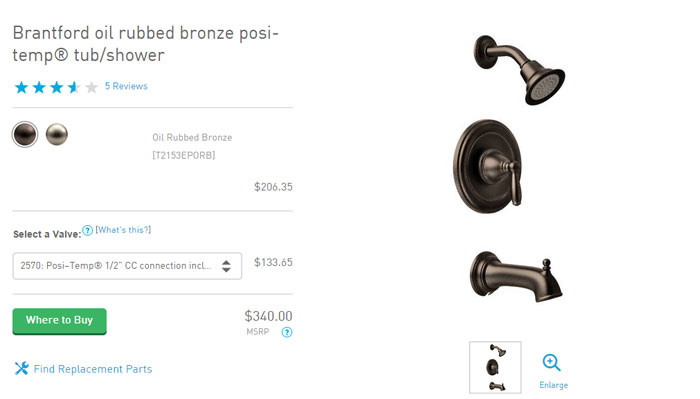 Shower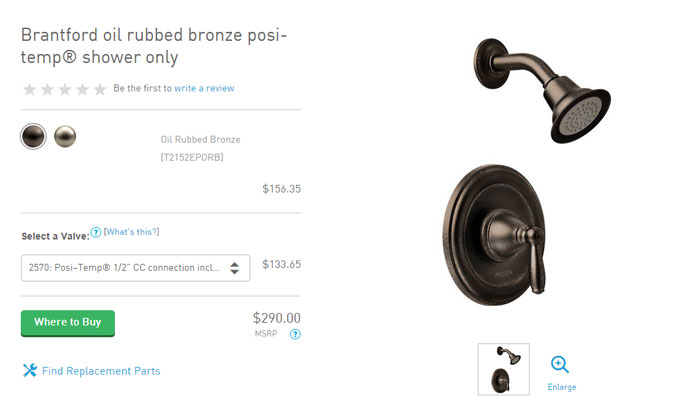 Deck mount (master tub)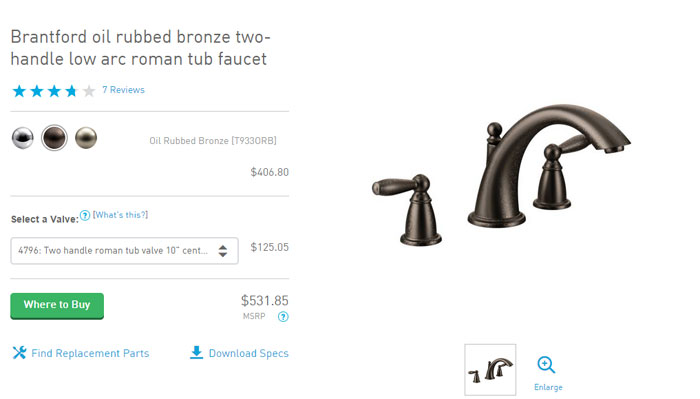 Standard bathroom faucet (Brantford – Product # 6610ORB) – $221.30 list price [this is the faucet that is included]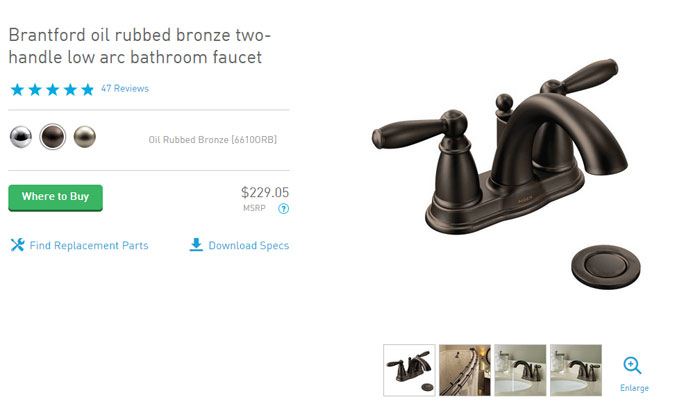 Vessel Sinks
One option if you want to use vessel sink is Builder's Mark in San Antonio
If the sinks are taller, the higher faucet costs $77.65 more & the extension kit costs $140 more = $217.65 upgrade cost/each sink.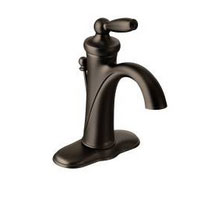 Vessel sink extension kit (Product # A1717ORB) – $140/each upgrade cost
Choosing Your Lighting
Our standard venders or lighting include:
Lowes
Home Depot
Tri-City Electrical in New Braunfels
Standard lighting budget is $1500. You may chose your own lighting or go with our standard fixtures. If you chose your own lighting, you will need to stay within budget or there will be additional upcharges for anything over the total budget. Or, if you purchase the lighting yourself, then you can be credited anything from the lighting budget that is not used on lighting.
Choosing Your Doors
Please download the Masonite Interior Doors attachment.  The brochure has a very wide range of door options. Also, you will need to pick if you want a smooth or textured (wood grain pattern) door style. The images below are just a few of the many door styles available.
Download PDF Of Masonite Interior Door Catalog
Window options
Prairie View style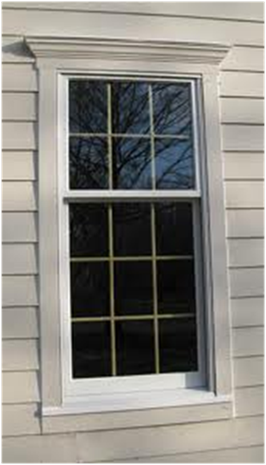 Colonial style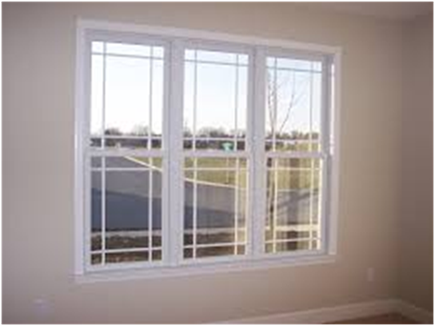 Choosing Your Hardware
The door hardware is from Better Home Products (BHP): Click any image to visit the BHP website.
The style for all the interior knobs and exterior doors (except front door handle set) is Noe Valley:

The style for the front door handle set is Embarcadaro: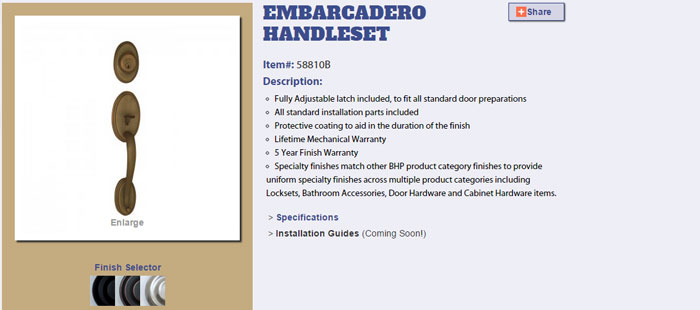 The style for the bath hardware is Miraloma Park:

We usually order a single towel bar, but this series has a double towel bar if you want that instead for upgrade price.
Cabinetry Options
We recommend Parrish & Co. for cabinetry. They have several offices.
Austin-Round Rock: 512-835-0937
San Antonio: 830-980-9595
Downtown San Antonio: 210-255-1125
Visit the Parrish and Co Website
Mantels
If you are planning a custom mantle for your fireplace please visit Pearl Mantles to view their selection.
Shingles:
Purchased through Lowes:
2211 S IH 35 / San Marcos
The shingles are hanging up above the contractor sales desk.  You can stop by any Lowe's to see the shingles.
Stone Exterior
NB Espinoza Stone Inc
8200 N IH 35 / New Braunfels 78130
(between San Marcos & New Braunfels on IH 35)
830-629-2530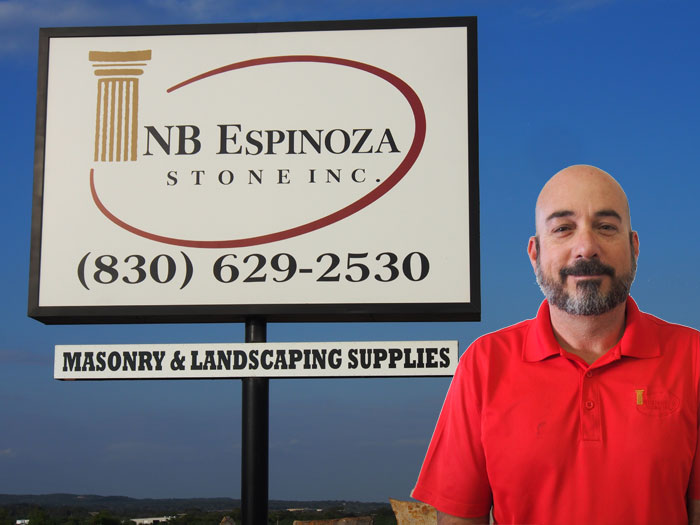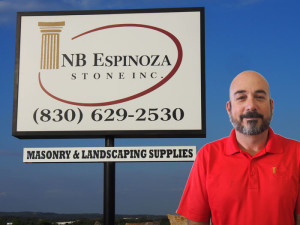 Visit the Espinoza Stone Website
Scott Griffis is the Manager and can help you with your selections
Email: scott@espinozastone.com
You will need to pick the exterior stone. Texas mix and several others in this price range are our standard. You may upgrade your stone to a higher grade with an upcharge.
Our standard features include the front of the house in stone, not the sides or back.
Garage Doors
We use a standard garage door.
It will be painted with either of the exterior paint colors that you have chosen. This does not come with garage door opener, but you can have this included for an upcharge.
You can also upgrade your choice of garage door for an upcharge.
Here is a website that we recommend for faux wood garage doors (such as option would be an upcharge).  The collection is the "Canyon Ridge".  Then you can click on "Design Options" to see different style choices Here's the website: clopaydoor.com
Gutters
Hill Country Insulation, LLC
12870 W. Hwy. 29
Liberty Hill, Tx. 78642
Ph: 512-515-7707
Visit the Hill Country Insulation Website
There are two locations on the website — Liberty Hill (Austin area) & San Antonio offices.  We use the Liberty Hill office.  Give them a call & tell them you are a client of Workman Development.  They can give you all the info about colors — I'm sure they have a brochure or can direct you on what colors they carry.
Gutters are not part of our standard features, so if you would like gutters installed, this can be done, but is an upgrade with an additional upcharge.
Glass and Mirrors
Fashion Glass and Mirrors
16910 S Interstate 35
Buda, Texas 78610
Phone  (512) 312-2522
Window Blinds
Here is the contact info for two window blind companies that several of our homeowners have used in the past.  We have also personally used both of these companies & they did a great job.  I know that they have good prices for the 2" or 2 ½" wood / faux wood product & they both have a limited lifetime guarantee:
We are not affiliated with these companies in any way, so feel free to use whoever you would like.
Hill Country Custom Blinds
Bob & Velma Epstein (Owners)
512-264-8844
toll free 877-blind-88
Made in the Shade
Steve Dipasquale (Owner)
www.madeintheshadeofwimberley.com
512-847-8970
If you call any of these companies, be sure to let them know that Workman Development referred you.  I'm not sure if they have special pricing since we are a builder, so I would let them know just in case.  These two companies give free estimates, so it might be a good idea to schedule/contact more than one or both for comparative purposes (or any other companies too).  Lowe's / Home Depot also carry window blinds and I think they provide free estimates as well.
Stained concrete options
I have attached several pictures of stained concrete so you can see the look. This is an upcharge and we would need to get a bid on this to be able to give you an upgrade price.
If you would like to discuss decorative concrete we recommend
Sean Crabtree
Crabtree's Landscape & Management
Decorative Concrete
Address: 1570 Whispering Woods Trail, New Braunfels, TX 78132
Phone:(210) 269-9258