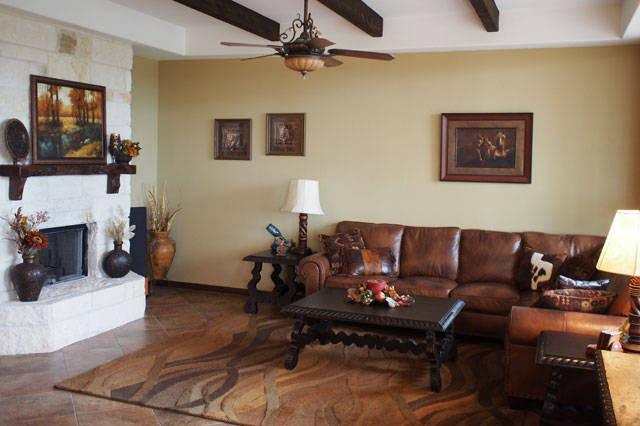 "We spent months looking for a new home that would fit our needs, but we had some high criteria in design and specifications, coupled with a not so high budget. Finally we found a beautiful home that was very close but not exactly what we wanted. So we spoke to the builder of that home, Jeremy Workman, to find out what other homes he had available.
Much to our surprise he said that he could build a home to our exact specifications. So we took the floor plan that we liked and worked with the architect to modify it to our exact specifications. Mr. Workman showed us a plot of land that was perfect for us – exactly what we were looking for. Once the floor plans were finalized construction began. Throughout the construction process, I loved being able to call Jeremy on the phone and he was always happy to talk and answer any questions. He always knew exactly what was happening and it was obvious he was all over it, familiar with every detail and completely hands on.
Then I was blessed to work with Tricia on our design choices. We had never gone the custom home route before, so I wasn't familiar with this. Tricia worked with me with incredible patience (which I would say I definitely tested!) and with a lot to TLC, she helped me through every step. It was incredible because I was able to get everything I had dreamed of in terms of energy efficiency and design features. Gorgeous granite counters and custom cabinets in the kitchen and bathrooms, solid wood beams, all the perfect colors and textures of paint, trim, tile, lighting, switch covers, faucets, carpet, everything. I love the stone we chose for the exterior of the house, which was also used for the main fireplace – absolutely gorgeous!
I could go on and on about what a wonderful experience it was working with Workman Development, but I will say this: I feel very blessed to have found them. As time went on, while working with this team, I was more and more impressed with how friendly and helpful they were while at the same time being extremely professional and competent. They were honest and upfront regarding costs and time estimates. There were no surprises or hidden costs. I know some things ended up costing the builder more than expected but he didn't change what he had quoted us – something I think is very uncommon.
We LOVE our new house in the Texas hill country, like over-the-moon love! It's the house we plan to grow old in. It's everything we dreamed of. We are grateful to the Workman team for their hard work, honesty and the real down to earth care that they put into building our dream home!!!"
– Debbie B, home owner in Wimberley, TX